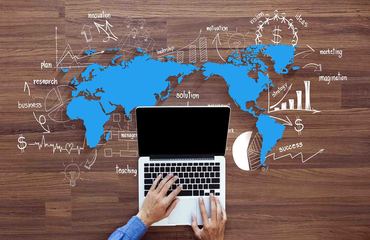 Digital marketing has proven to be effective in reaching a global audience but creating an international digital marketing strategy can be very diverse in comparison to a domestic one. Expansion into new markets could lead to massive success for businesses; it offers an opportunity to target new markets and build on a global customer base, thereby amplifying revenue.
To be successful, it is crucial for businesses to carefully consider the audience and develop digital marketing strategies aligned with the market they aim to reach. Let's get a grip over these nuances of implementing effective digital marketing strategies in the international market.
How Digital Marketing helps Businesses Expand Internationally?
The modern world of today survives digitally. Customers get all their news, purchase products and engage with brands on an online platform. Companies reach international audiences faster and economically with the aid of different digital media channels that include social media, PR campaigns, content marketing, SEO, email marketing and more.
Having a diverse digital marketing strategy that taps on varied mediums enhances the likelihood of a company getting a favourable response. In a volatile international market, when one digital marketing channel does not manage to resonate with your audience, another one will.
Devising a Digital Marketing Strategy for the International Audience
We know how baffling it could be to penetrate the international market through digital marketing. Here's a quick and effective guide that empowers you to build and implement a constructive digital marketing strategy for international audiences.
1. Begin with Market Research and Competitor Analysis
Analyzing the buyer's characteristics and potential is fundamental in developing the right marketing strategy. Identifying the demand for your product or service is crucial too. Research on the GDP growth, public infrastructure, consumer analytics, minimum wage, average pay, traditional beliefs, values, lifestyle, behavior, culture and worth ethics, of your target audience in the international market.
Carry out a detailed competitor analysis that can help you track the economic climate for effective customer acquisition. Keep in mind the number of employees, customers and the competitor's tenure in the market amongst other factors. These strategies will help you in targeting the right audience with the right digital content and in creating campaigns that generate the best results!
2. Develop the Flexibility and Scalability to Implement International SEO
Implementing search engine optimization aligned to your target international market ensures that your brand becomes more accessible in the foreign market. You will have to be adaptable and broaden your horizon both in terms of knowledge and resources. Start with creating a separate and dedicated website for the international market.
Identify the search engine which is popular in your target foreign market and optimize for it. For instance, Baidu is the most used search engine in China. This empowers your SEO strategy to achieve rankings in that country. Also, don't forget to diversify your content strategy, incorporate target language keywords, use multilingual blogs and share user-generated content.
3. Build Strong Global Relationships and Get Contributions from Experts
Lastly, personalize your strategy and build concrete customer relations. International digital marketing should be made as customer-centric as possible. Be responsive to customer inquiries and address complaints immediately. The goal should be to make customers feel valued in the new market, offer them something unique so that they feel compelled to try the product or subscribe to a service.
Since international digital marketing could be something new and intimidating, don't hesitate to get in touch with experts from a veteran digital marketing agency in Mumbai.
When it comes to international digital marketing don't be hasty. Aim to employ an efficient and well-thought digital marketing strategy that reaches international audiences, region by region or country by country. Monitor and evaluate your strategy constantly and introduce changes wherever necessary. These insights help your brand to shape an emphatic foreign digital marketing strategy that has the potency of delivering tangible results!