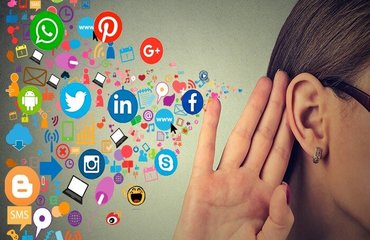 'Listening', is the tact that very few possess but it is also a trait that can lead to success in every field and social media marketing is no exception. Social Listening has been one of the most crucial strategies of effective digital marketing for a long time. In this blog, let's understand some of its facets that are extremely significant to survive the volatile and transformation-savvy world of 2021.
What is Social Listening?
Social Listening is the act of analyzing and drawing constructive conclusions from the conversations and trends that are happening around your brand and its sector as a whole. The insights that you pool out from this analysis empowers you to make better marketing decisions.
How is Social Listening different from Social Monitoring?
Understanding this difference is important to use Social Listening strategies productively. As opposed to Social Monitoring, Social Listening helps you explore why, when and how these conversations about your brand and latest trends are sprouting up and how your audience perceives them. You can analyze this even when your customers are not tagging or mentioning your brand, unlike social monitoring which involves tracking and responding to customer messages. Moreover, Monitoring tells you 'what' while listening answers the question, 'why'.
How is Social Listening beneficial to your brand?
If you are still wondering how Social Listening helps your brand, remember that all the analysis that you procure from Social Listening helps you formulate your future campaigns, influencer programs, content and digital strategy impactfully such that you can outpace both your past flaws and external competition.
Tips for constructive Social Listening in 2021
Put your Social Listening data into action by improving your brand health. This will enable you to first identify your key social media customers and explore their most common issues as well as things they love about you. Create a thorough FAQ document or chatbot that help answer their queries elaborately and get a sense of whether your followers are positively or negatively mentioning your brand.
Use Social listening to gauge the industry insights and evolving trends. 2021 has seen a lot of new trends since everything shifted online post-pandemic. Through your analysis try to find a need that can be met by creating a new product or service. Keep a close watch on political, social or any other trend that is relevant to your brand or could end up disrupting your brand's environment.
Let your Social listening strategy empower you to find and get top influencers on board. Find out the best social media platforms for this influencer strategy.
Also, focus your Social Listening efforts towards competitor analysis and identify their strategies that outperform your own.
Lastly, don't forget campaign analysis and event monitoring using your Social Listening data. This will fortify your efforts, help you figure out key themes, devise collaborative campaigns, quickly grasp audience sentiment around specific campaigns and also track the impressions and engagement they generate constructively.
When everything around you is moving so fast, Social Listening gives your brand the stability needed to analyse and improve your social media strategies productively. If this is not something that you are acquainted with, fret not. You can get a socially adept digital marketing agency in Thane on board that can get you sorted with your Social Listening Skills!