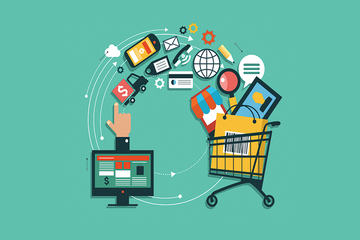 'End of the year Sales', the term itself sends one fluttering with excitement, doesn't it? With the right digital marketing strategy at the right time, you can get your customers hooked to your brand and amplify your sales exponentially. As the end of the year is soon approaching, let's explore the top 5 super-smart tips that you can implement to spike up your year-end sales online!
1. Create a Buzz around the Sale well in Advance
It is significant to have the right foresight and strategy to generate a tidal wave of excitement way before the start of your year-end sale. A great way of doing this is starting well before the sale launch. Sharing intriguing teasers, finding influencers to promote your sale, conducting engaging contests, creating branded hashtags, generating gripping digital content that your audience can relate with, are all fantastic ways that help create a buzz around your brand!
2. Enthral your Audience
Another crucial step is to research your audience and keep them engaged throughout the buzz period right till the sale is completed. Of the many endless ways to captivate your shoppers, the most critical one is to use the popular 'Wish List'. You can also entice them with a lucrative benefit or a coupon code to lure them back to your website and complete their purchase during the sale.
3. Connectivity is Key
Staying in touch with your customers is non-negotiable! For instance, gifts are the most significant aspect of the year-end festivities. You can create a 'Gift list' that your customers can share digitally with friends and family. Also, keep them informed regarding the most popular gift items others are buying to enhance connectivity and boost sales.
4. Ensure that your Online Shop is Sought-after
If you wish to seize the year-end with your sale launch, detailed planning is highly essential. Promotional campaigns, email marketing and other such effective digital marketing strategies are all your marketing assets. Make sure you use them wisely to make your brand and online shop more visible and sought-after at the time of purchase.
5. Communication is a Game-changer
We have all been drawn towards 'Your Cart is waiting for you' or 'We have missed you' messages. These messages with an emotional appeal are critical to a captivating communication strategy. Know the profile of your target audience thoroughly. All your digital marketing campaigns and communication such as the format of adverts, language and marketing channels (chat, telephone, email, WhatsApp) used, revolve around this profile.
These tips and strategies will get the ball rolling for your year-end sale and lift your sales competitively. If you are still unsure about how to align your brand digitally for your year-end sale, a well-resourced digital marketing agency in Thane can get your digital marketing strategies sorted for excellence. Whether your year-end sale is a win or a bust, it all relies on the quality of digital marketing strategies implemented to soar its performance. Make sure you don't leave this performance to chance!