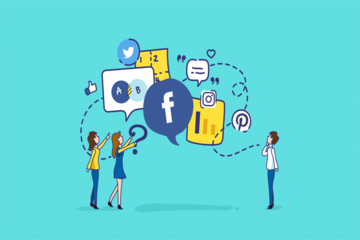 Creating successful social media campaigns could seem like a daunting task but in reality, if campaigns are strategized and executed correctly, it turns into the most productive experience. Whether you are a business owner or a social media marketer, it is significant to have the right resources to create a great social media campaign. To help you better with this process, we've curated the top 5 secrets to a great social media campaign below.
Brainstorming Social Campaign Themes Creatively Ensures the Strongest Foundation of your Campaign
The key to constructive brainstorming is to put yourself in the mindset that you can gain inspiration from several sources. Do not restrict your creativity. Resources such as Newsletters, Webinars, Forums and Competitor analysis data help flare up your brainstorming initiatives.
Creating bang-on creatives and content is the second and the most crucial step that decides the trajectory of your campaign's success
Once you've decided on a campaign topic that resonates with the audience, you need to strategically implement your campaign with the most striking creatives and content.
We've listed a few tips below that guide you to create and execute great campaign content:
Don't forget to utilize influencers
Adapt and relate to the buyer's journey
Create awareness with impactful images
Share user-generated content or create contests around it
Opt for creatives that engage with your followers
Drive traffic by connecting the socials to your website
Share customer testimonials
Analyzing the impact of your campaigns is insightful and non-negotiable
Analyzing your campaigns helps guide the creative process effectively. Ensure that you choose your metrics carefully. Engagement metrics such as clicks, likes, shares and other such metrics are vital to gauge your campaign marketing efforts.
Do not shy away from getting inspired by experts and innovators
It is crucial to do your research at every step regarding how other marketing executives, innovators and experts set their strategies and differentiate their campaign through bold and unique innovations. You can read such expert interviews or watch their videos to get inspired as that can set the tone of your campaign innovatively.
Incorporate the art of social listening
Lastly, emphasize social listening through the campaign process. Listening to your audience helps identify their needs and enables marketers to discover topics of interest, trending hashtags, and gain insight into brand sentiment. If you don't know how to figure out your way around this kind of research, an experienced digital marketing agency in Thane can help you create an effective social media campaign that generates tangible results.
A great social media campaign can work wonders for your brand if planned and executed correctly. Moreover, these 5 secrets can align your campaign constructively towards your goal and bring out the best in your marketing efforts!