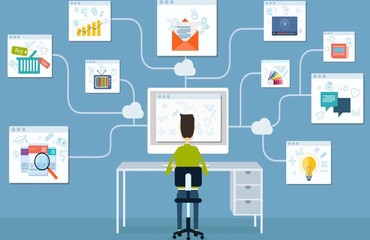 Known as the 'Blackbox' of digital marketing, Programmatic advertising could be a tricky strategy to understand. Its efficacy shows promising growth in the field of marketing. Let's understand all there is to Programmatic Advertising and how you can implement it effectively for your brand.
What is Programmatic Advertising?
In simple words, Programmatic advertising uses technology to eliminate the cumbersome and prolonged manual tasks that were earlier required in the advertisement sector. It puts into practice efficient technological automation for buying and selling of ad impressions on various digital media platforms. The Ads are known as Programmatic Display Ads and the process is also known as Programmatic Marketing.
How does Programmatic advertising work?
Now that you know that the world of Programmatic advertising revolves around managing, selling, and buying digital Ads in an automated fashion, let's dive deeper through a few of its practical examples and applications.
1. Google
Google adopted the Programmatic advertising strategy for promoting its Google search App. The result was a massive success with a 50% increase in brand awareness, 30 % lower cost-per-thousand impressions (CPM), and an increase both in reach and frequency by 30%.
2. Kelloggs's
Kelloggs adopted programmatic advertising to drive offline sales in a better manner. The result was a 70-80% increase in viewability rates and 3 times better targeting as compared to other traditional strategies.
3. AirAsia
AirAsia was looking to rebuild brand trust after one of its planes crashed in 2014. Through Programmatic advertising, the airline launched a series of display and video Ads and this automated Ad campaign led to a 30X return on Ad spend.
Step-wide guide to Programmatic Advertising
The basic foundation of a programmatic advertising ecosystem is made up of four primary components – A demand-side platform (DSP), a supply-side platform (SSP), a data management platform (DMP), and an ad exchange. Each component of the system works together to benefit both publishers and advertisers by facilitating trading.
Here's a crisp, easy, and effective step-wise guide that will help you understand Programmatic advertising in a better manner.
1. Prepare and define objectives
First things first, set your KPIs and start planning your creative strategy. KPIs are Key performance indicators that indicate your performance goals such as brand awareness, new target audience, boosting ROI, increasing Ad visibility, decreasing overall Ad spend, etc. It is crucial to set the right performance goal for the right result. Also, don't forget to explore different Ads specific to your goal such as Banner Ads (for building brand awareness), Video Ads(quick-to-grab eyeballs), and Native Ads (Editorial style Ads), In-app Ads (Mobile Apps), etc.
2. Choose your DSP (Demand-side Platform)
The tool you use will impact how you access your campaign settings and analytical data, so it's critical to get it right. This is a significant step as this tool helps you control your Ad spent. Media Math, Amazon DSP, adform, and the TradeDesk are some of the top DSP tools.
3. Setting your campaign parameters
These parameters will define the length and budget of your campaign, among other things. They include Insertion Orders (IO) that contain broader aspects such as inventory and ad start /end dates, target audiences and the number of impressions, etc. Line items are the parameter that includes fine details such as impression goals, ad types (display or video), and targeting.
4. Make your strategy data-driven
Data allows you to target specific clients and markets, allowing you to get more bang for your buck with your advertising dollars. You can opt for first-party data for your Ad campaign which is the most valuable data obtained directly from your customers or the second-party and third-party data that are not exclusive and seems apt for a smaller audience.
5. Define the options for targeting
You can make the most exact decisions based on data to target the customers you want. This is a very crucial step and depending on which audience group you are trying to tap, you can even alter your settings to target varied browsers, devices, and operating systems.
6. Gear up for the launch
Select your traffic sources, upload your creatives, and double-check to make sure everything is in order before going live.
7. Optimize and refine your campaign
Once your campaign is live, you'll need to thoroughly analyze your data and reports regularly to make changes and improve ad performance for the best result.
Programmatic advertising is a journey that can be mastered with continuous research, practice, and persistence. If you are still struggling with this strategy, you can get started by reaching out to experts from a good digital marketing agency in Thane. This automated advertising strategy can be highly lucrative in increasing Ad efficiencies, reducing overall Ad costs, optimizing ROI and target audience reach for your brand's success.