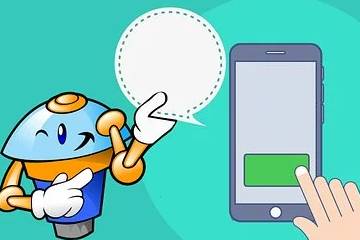 Real-time conversations have the power to move buyers through your marketing & sales funnel in a faster & more effective way. It nurtures relationships and generates authentic experiences with buyers. Let's explore how conversational marketing strategy is an asset and why your brand needs to nail this segment of modern marketing.
Conversational Marketing in a Nutshell 
Though many brands have started using this marketing approach, some lack the tact required in making this a productive avenue for garnering potential business opportunities. This is where an expert digital marketing agency in Thane comes into the picture. Conversational marketing is a personalized approach to doing business digitally by using the power of one question at a time. You can ask website visitors different questions based on their previous answers through this automated medium and receive particular details about their needs that helps convert them into customers.
What's New with Conversational Marketing? 
This artificial-driven marketing technology has been around for a long time but lately, it has proven to be a positive market disruptor. Conversation-based marketing has compelled email marketing to take a back seat. According to a recent survey by Twilio, 90% of consumers prefer using conversational marketing over emails owing to its quick and engaging nature. Conversational marketing averages a 54% read rate & 26% response rate as compared to email's which is at 16% & 3% respectively. 
How conversational marketing is evolving the way your customers buy?
1. Revolutionizing messaging platforms
According to Business Insider, Apple manages about 40 billion iMessage notifications every day worldwide. Interactive messaging platforms such as WhatsApp are banking on chatbots because an interactive environment promotes continuous engagement with real-time interactions. We can expect a vast number of conversational messaging applications to be launched in the coming year that will further engage and transform conversational advertising.
2. An engaging conversational framework
Conversational marketing has become the go-to strategy for driving customer engagement, improving customer experience, and growing revenue. Though it's not a new marketing and sales funnel, implementing an engage-understand-recommend framework in your conversational marketing strategy is the innovative approach to turn on a new lead-gen channel. It complements your existing marketing efforts and effectively moves people through your sales funnel towards being future customers.
3. Focus on acquiring customer data and optimizing the customer experience
Data gathered through AI-backed conversational marketing will be the driving force of customer acquisition, extended marketing channels, upselling and customer retention for many businesses. It all boils down to delivering an unparalleled experience to customers through conversational marketing.
The Final verdict
Conversational Marketing makes businesses feel personal again. You learn a lot about your buyers that allows you to create a knowledge network, shorten your sales cycle and grow your sales pipeline. They enable you to offer a more human, customer-centric and dialogue-driven approach to digital marketing with fast responses to visitors 24/7, even while your team is unavailable. It is also a great ally to lead capture forms. You convert more leads and better leads as conversational marketing uses targeted messaging and intelligent chatbots to engage with potential customers when they're on your website. This makes it easier for buyers to engage with your business and helps convert the right leads faster which results in happier customers and a prospering business.