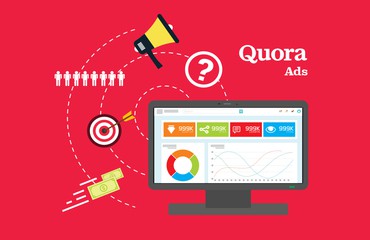 Quora Marketing provides a vast platform to promote your business strategically. It is one of the most significant digital platforms today with many facets. If used correctly, it can help you sustainably accomplish your marketing goals. Once you've got a grip on its foundational principles, it's time to dive deeper into its nitty-gritty and understand the in-depth mechanism of how Quora Ads work.
Five Detailed Steps to Effective Quora Advertising
Here is a step by step detailed guide on how to advertise and set up your ad account on Quora and optimize it to reach your marketing goals.
Step 1: Creating an Ad account on Quora and Account Setup 
Similar to every other advertising platform, you need to first create an Ad account for your business on Quora. Once you've created an Ad account, you get absolute access to the Quora Ads manager. While creating an Ad account on Quora, you need to mention your account information (account name, email address, etc.) and Business information (Business name, address, etc.). You can also select the currency that shall be used for campaign reporting and billing.
Step 2: Understanding Quora Ads manager Dashboard and Campaign Objectives
The Ads Manager dashboard will provide you with information about the efficacy of your ads. It displays the performance metrics for the preceding 7 days, as well as the amount you spent over that period. The critical stage in Quora Marketing is deciding on a campaign goal. Quora offers four varied marketing objectives such as conversions, app installs, traffic, and brand recognition; and you can select any one from these objectives. Let's discuss these objectives in detail below. 
a. Conversions  –
If your goal is to maximize conversions for your business, you need to go ahead with this campaign objective. This is centered on the ad delivery algorithm that aims at optimizing for conversions rather than clicks. This method is put to use for directing customers toward your landing page. If your customers proceed to your landing page, then the conversion is considered complete. 
b. App Installs  –
Just like the name suggests, this campaign objective is utilized when you want customers to install your mobile application or game.
c. Traffic  –
This campaign objective accentuates your goal to drive more traffic to your website and can act as a significant asset in generating relevant traffic to your business' website helping you to introduce your brand to the audience effectively.
d. Brand Awareness  –
For times when you wish to create awareness among clients about a newly introduced product or service, this campaign objective will serve your purpose aptly. You can utilize this objective for your campaigns if you aim to enhance the popularity and recognition of your business amongst your target audience.
Step 3: Creating a Campaign and setting up a campaign budget and schedule
In this step, let's understand how you can create a new campaign for your brand on Quora bearing in mind your campaign objectives. Firstly, you need to input information such as the campaign name, campaign objective, etc. Remember that the fields may alter when you switch between varied campaign objectives.
Once you've inserted the campaign details, you need to now set a maximum budget for your campaign. Here you can set the values for the daily maximum budget (the maximum amount that can be spent in one day for a campaign) and the lifetime budget (total amount for a particular campaign expended over a lifetime). The latter is optional.
Step 4: Getting a Grip over Quora Pixels 
Similar to Facebook pixel, Quora also has its own pixel that can assist you to track website conversions which are the outcomes of your Quora ad. Make a note that Quora only allows one conversion pixel for a single account. This implies that you can only track one kind of action on your website pages.
Step 5: Creating an Ad Set for your Campaign and Ads based on your need
You can create ad sets to go ahead with custom targeting and bidding for a specific set of ads. It helps optimize multiple Ads at a time. Make sure you select a topic based on the keywords most relevant to your products and service. The next step is to create your ad which can be done from scratch (you will need to input the ad name, business name, ad title, ad content, and call to action if needed) or by importing an old one.
Select the corresponding headlines/tagline, description text, and landing page URL of your ad. Optimize your ads based on the topic; for example, you could target a specific location if your business is location-oriented. After creating your ad, you can preview it too. Quora lets you create ads in three different formats as below- 
a. Image Ad - 
You need to upload the company logo recommended size of 500X500 in square shape and an image PNG or JPG of a minimum resolution of 600X314 or the recommended dimensions of 1200X628 that will appear beside the text headline and ad description.
b. Text Ad -
They are a great way to reach and engage with Quora users and get a high return on your investment.
c. Promote an Answer Ad -
Basically, a share questions and answers platform, Quora offers the finest way to acquire customers through this format, wherein you can promote your answers to a targeted audience.
Key Points to Remember When Creating your Quora Ad Copy:
Headline length: Max. 65 characters
Body Text: Max. 105 characters
Display URL: Maximum of 30 characters
Lastly, you can keep a track of your campaign conversions by installing Quora pixel on your website or landing page. Daily/ weekly email updates of your account's performance, measuring different metrics like CTR (click-through rate), impressions, and clicks, conversions through the ads manager dashboard help you calculate ROI and gauge your marketing efforts continuously.
Quora advertising is one of the best ways to promote your business, keep an eye on the competitors and discover new market trends to explore innovative ideas, that help you learn and share knowledge, as well as endorse your business to the world effectively!