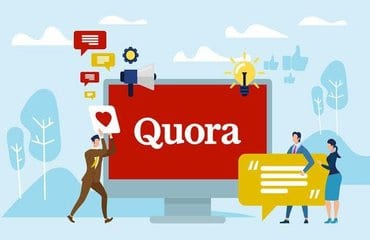 The most crucial thing in Digital marketing is to exist on the right digital platforms. Quora is a digital platform that is over a decade old and answers questions to over 300 million users in a month. So, should you market your brand on Quora? If yes, how? Let's understand the world of Quora marketing better.
What is Quora?
Quora is an information-focused website where people ask and answer questions. The queries range from the most simple and straight-forward questions to the most complicated ones. Similar to Reddit, the more the people upvote your answer, the more exposure it garners.
Why should you be using Quora as a Digital Marketing Platform?
Though you might think that a question and answer site might not be an interesting addition to your digital marketing strategy, Quora can prove you wrong. It is known to be excellent at generating organic awareness, enhancing your brand's online reputation, and also empowering you to gain more knowledge about your audience. If used correctly, Quora marketing offers exceptional reach, good search visibility, high-quality traffic, and deep insights into your audience.
How does Quora Amplify your Digital Marketing efforts?
1. Social Media Marketing on Quora
Quora is an impactful tool to get social about your brand. You can increase your business's social media followers through Quora and get insights into customer and competitor perspectives.
2. Paid Advertising on Quora
Creating a Quora account lets you target customers through paid advertisements. You can create Ads through an option of the same name on your Quora account. Go to the Manage Ads Page where you get a summary of your spending summary on clicks, conversions, impressions, and spending. Quora's conversion optimization campaigns utilize a targeted "conversion" pixel to allow companies to track the effect that Quora ads have on their website.
We have also Listed a Few Impactful Tips to help you with Quora Marketing
1. Create a Fantastic Bio –
This is absolutely non-negotiable. First impressions of your Quora Bio is the last impression, so make sure you put your best foot forward. Keep track of relevant topics with notifications – Use Quora effectively and conduct research to search through interesting keywords and follow relevant topics that help you build your brand.
2. Find the Right Questions to Answer –
In order to get the most out of your Quora marketing strategy and build brand presence make sure you choose the right questions to answer especially those that fit your business. Answer new questions and look for threads with a lot of upvotes.
3. Answer questions with ardor and assertiveness
Last but not least answer your questions with passion and connect with other users. Also, don't forget to review your analytics and Quora marketing strategy constantly.
As opposed to common belief, Quora marketing has a lot more potential than it seems from afar. If you haven't yet started your journey with Quora marketing, go ahead and use these tips, action points and strategies to get started with a great Quora digital marketing foundation to magnify your brand's appeal to the masses!