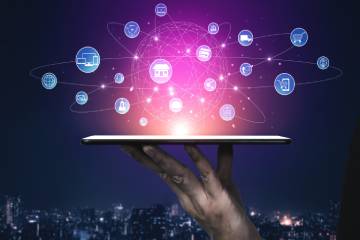 You bring your A-game to the business strategy when it is acquainted with every marketing concept and terminology that uplifts your brand. Omnichannel marketing is one such approach that emphasizes using all of your digital or traditional channels of marketing to create a single, unified and powerful experience for your customers concerning point-of-sale, in-store and online experiences.
What is Omnichannel Marketing?
Omnichannel marketing is a seamless and integrated multi-channel marketing strategy that offers a unified experience to brand and sell your products/services effectively to the target customers. With the ever-shrinking attention span of the new generation customers, the concept of Omnichannel marketing is a conscious digital marketing effort that could prove to be a smart and insightful strategy as well.
As per market research, 86% of shoppers regularly channel-hop across two channels. Customers don't just hop from one shop to another but also switch across multiple digital platforms while shopping. Unlike multichannel marketing, Omnichannel marketing focuses on effortless customer-centric marketing on every digital platform whether they log in via a desktop, mobile phone, or even while traditional in-store shopping.
Below we list a few examples that will help you understand Omnichannel marketing in a better manner. 
Re-targeting a customer on Facebook or any other social media platform with their abandoned product in the cart of a shopping platform.
Shooting an email or SMS about an offer or promotion while in-store shopping.
Sending an SMS to the customer about a product promotion along with a mailer in the mailbox with redeemable coupons.
Massive Perks of Omnichannel marketing for your business
A. Customer-focused
The best benefit of incorporating an Omnichannel marketing approach is how it emphasizes customer satisfaction over anything else. The ease and efficacy through which customers can log in through any available device and platform makes them feel valued and ensures a re-purchase.
B. Amplifies Branding
This approach offers consistent cross-channel marketing which imprints your brand in the customers' minds. The more your customer sees your product or service is reflected on different platforms, the more it creates a distinguished niche for your brand in the customer's mind.
C. Scales up revenue
One of the most significant expected outcomes of a marketing initiative is an increase in sales revenue. Scaling up sales and revenue generated by targeting customers consistently on different platforms has increased the popularity of Omnichannel marketing.
Tips to device a potent Omnichannel marketing strategy
1. Always think from the customer's perspective
Research the buyer perspective thoroughly and understand why and where your customers are most likely to seek your product or service in the first place.
2. Segmentation of target audience is key
The fruit of your e-commerce and re-marketing efforts in the Omnichannel strategy yields success when you have segmented your customers effectively as per audience characteristics such as their personas, paths to purchase, subscription status, etc.
3. The right metrics and tools can be your armor
Data is unproductive unless it is analyzed well. Ensure that you use the most effective Customer Relationship Management (CRM) tools and tracking metrics to analyze customer behavior optimally for exponential breakthroughs in your marketing strategy.
If you haven't incorporated the Omnichannel marketing strategy in your business yet, it's time you do and sees success unfold through every marketing platform. Good Digital Marketing Companies in Mumbai that have a strategic orientation towards marketing ensure your business gets the most out of this marketing and branding approach.
Witness the performance evolution of your products or services in the market through improved customer experience, rising revenue, enhanced brand loyalty, consistency and brand personalization across all channels with Omnichannel marketing.