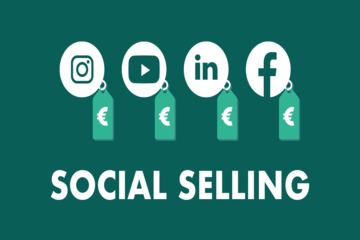 A business that does not leverage its social media platforms to reach out to its audience is not fully aware of the potential these platforms have. It is not only important to have a digital presence but also to explore its complete capabilities to approach your customers and sell your products or services effectively. This is exactly where Social Selling comes into the picture. If you haven't heard of this term or do not know what it entails, don't push the panic button just yet. In this blog, we give you the A-Z of the world of 'Social Selling'.
What is Social Selling?
A modern digital strategy, 'Social Selling' is the practice of using a brand's social media platforms to approach and build a positive relationship with prospects and engage with leads once the connection is forged. These meaningful relationships with potential clients further help to generate sales.
Why opt for Social Selling?
It is fast, quick and efficient! The low-cost model of the Social Selling platforms clubbed with its agility is one of the major reasons why you should opt for this tactic. It also helps to replace outdated or redundant relationship-building and sales techniques such as cold-calling. Below we list some of the primary benefits which make Social Selling an asset for your business's digital marketing strategy:
Social selling is not just adding contacts to your list or bombarding strangers with sales prospects digitally, it is a process that generates intrigue in your customers and makes them aware of the solutions your products provide.
It builds brand loyalty and gives it a competitive advantage.
Boosts sales and makes achieving sales quota easier.
Strengthens bond with clients and enhances your brand's reputation.
How to go about it?
Know your audience well and find out what drives them to buy your product or use your service. Offering solution-based selling as per your research on the target audience can fuel your social selling process exponentially.
Don't just sell for the sake of it, interact with buyers and provide true value to them.
Make sure you explore all social media channels such as Twitter, LinkedIn, YouTube, Instagram and Facebook to the fullest. Also, maintain uniformity and creativity in your social selling tactics throughout these platforms.
Great content and images go a long way and imprint your brand in the customer's mind to maximize the Social selling benefits.
Update your profile regularly and keep your profile optimized from a buyer point of view.
Keep a track of your Social Selling Index (SSI) which is a good metric to measure the impact of a brand's social selling efforts. Introduced by LinkedIn back in 2014, this metric helps you establish your professional brand correctly, share relevant conversation-inspiring content with your buyers and find the right prospects on social media platforms. You can find your LinkedIn SSI score by signing in to your account and navigating to your Social Selling Index dashboard.
Engage with your followers and interact with other businesses on social media platforms
Social Selling is the new-age digital marketing tact that works wonders for your sales and revenue generation targets. Being acquainted with a well-experienced digital marketing agency in Thane can ensure that you master this strategy perfectly. With these tips and techniques, you can certainly accelerate your brand's Social selling performance to the fullest!