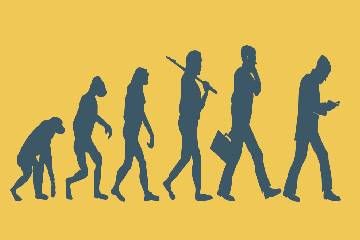 Has your Business Evolved Digitally? Does it have its unique Digital Footprint or is it at the brink of withering away? Digital Disruption is here to stay. The post-pandemic world has asserted that we are living in a highly VUCA (volatile, uncertain, complex, and ambiguous) world. It's time you know where your business stands in the virtual world and how you can brave through it with the right digital strategy.
What is Digital Darwanism?
Digital Darwanism talks about how just like different species, companies need to adapt in order to survive a digitally transforming world. In 2021 the average lifespan of companies will be 20 years as opposed to 1960 when it was 60 years. This means more and more businesses are succumbing to Digital Darwinism. The fourth Industrial Revolution is already here and to overcome it your business needs to have a Digital DNA.
Survival of the Digitally Fittest
What happens if your business does not evolve digitally? Are your conventional modes of marketing good enough? Traditional marketing alone cannot equip your company to survive the new age consumer needs. Consumer Behaviour is transforming in the Digitalized World and so should your business. From the original Fortune 500 list of the year 1955, only 71 companies have managed to survive today. Higher Cost, Difficulty in tracking ROI effectively and quickly, less interaction with the audience, poor conversion ratio, lack of predictive analysis are some of the major drawbacks of conventional marketing that Digital Marketing helps you to overcome. Digital Marketing is data-driven, real-time, and relevant to the evolving consumer needs.
How your organization can survive the Digital Revolution!
Track and adopt New-age Digital Trends
Trends like Artificial intelligence, Big Data, Hybrid apps, digital gamification are no longer a far-fetched dream. They are the world's present and have the power to shape its future. These new-age digital technologies help brands enhance their products and services. India is accelerating in its digital marketing transformation, especially its commercial capital Mumbai. Some of the best Digital Marketing Companies in Mumbai adopt these modern Digital Trends. The key to survive is to Diversify. Don't rely on a single technology or digital media platform. Explore multiple channels that enable you to amplify your brand's digital potential.
Get the right Digital Partner on-board
It is not just important to have a website or a social media handle for your business. Having a good digital partner with the right expertise is crucial too. When you are looking for a bright digital future for your business, it is significant you get the right Digital Partner on board. Choose a Digital Marketing Agency in Thane or Mumbai that understands your business' digital needs. Digital experts have the insights to give you personalized and sustainable digital solutions. A good digital marketing agency ensures that your website and social media handles are a true reflection of your brand. It empowers your brand to adapt to the virtual market effectively by tracking metrics correctly and generating the right traffic. This helps your business flourish.
A Customer-centric Ethos is key
A customer-centric business is a thriving business. Digital Brand loyalty is cultivated when you have a strong customer-focused attitude. It helps your business to rise above the competitors. Analyze how your target audience reacts to your brand digitally, whether it is through your website, emails, or social media platforms. This will help your brand to enhance its digital identity. Understanding customer behaviour and patterns, being finely attuned with their needs, and engaging with them interactively on digital platforms is integral to your brand's success.
Empower your workforce Digitally
Digital Technology can wield massive power only when surrounded by knowledgeable people. Business productivity has a lot to do with how digitally equipped your employees are at the workplace. Most of the good Digital Marketing Agencies in Pune, Mumbai, and Thane believe in creating a digitally agile workforce. Not investing in a digitally aware employee pool can be a major barrier to digital transformation. When you instill a digital work culture, it boosts both workforce performance and customer satisfaction which makes success inevitable.
Bill Gates put it best, "If your business is not on the Internet, then your business will be out of business." Don't delay, hesitate and succumb to Digital Darwanism. Let your brand be a Game Changer with the Right Digital Strategy to conquer competition successfully. Embracing a Culture of Digitization, Innovation and Adaptation opens up new avenues of business opportunities. It is the fortune-telling globe that predicts your Business' fate in the cut-throat world and propels it onto the path of success!