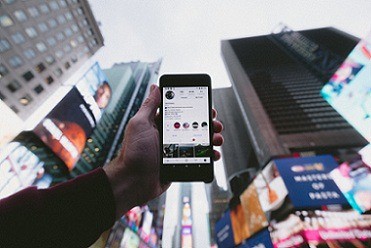 Here's a scenario – when a person wants to buy something, they'll first do a quick Google search for the product or a service. They'll check the official websites, they'll check the review sites, they will read the reviews. Later, they will check the social media channels for the same products / services. They will discuss it with their friends on Facebook, Instagram, and WhatsApp, that is, they will use search & social media. Once they are completely sure about the product, they will make the actual purchase.

What we are trying to say here is – It is no more about Social media strategy and SEM strategy or Google AdWords strategy. Now it is about the power when both the platforms are combined and used for the best.
In this post, we will see why and how to combine the power of search & social audience
For a digital marketing agency, the primary goal is growth. So first, we will discuss why it is important to combine search & social –
Social effect on search rankings
As we have seen in our earlier posts, Google takes social media signals seriously and what people discuss on social media definitely affects the search rankings. Because of the last few changes in the Google algorithm, social has more prominence. Owing to the increased use of social media, Google and Bing aim at making the searches more social.
Combination gets double the results
Brands that used combine search & social strategy in their marketing activities get twice the number with regards to conversion rates and ROI. Using social and search individually won't make the same impact as the combination will do.
Specific targeting using the combined power
Social media helps you differentiate between certain categories and groups from another for the marketing purposes. When you optimise the website content according to the social media research and the platform requirements, it will help you in getting important spots in search results pages.
Authority and identity over the content
For authority in search rankings, it is important to have an authority over the content that you are creating. For this, the brands and content creators / marketers should get the content verified and marked for the authorship.
Better content promotion
While looking up for a particular query, search engines crawl the social pages as well. They also consider their authenticity, engagement, and other social signals. This means that your content has a better avenue to reach to the audience apart from your main website
Adds relevance and personal touch
 A key to successful marketing – be it digital or traditional is being relevant to the customers and connecting with them on a personal level. Combining search and social gives you insights from both the sides. On social media, the search parameters that are beyond the keywords and the links. It gives deeper insights. Social search considers the value and authenticity of the websites.
Now let us see how to use search & social (Facebook and Google) campaigns in sync for yielding better results
Content coordination & format aligning
The story should have a content & messaging that is consistent across the channels – social and search. The call to action in your search ads and in your Facebook-campaign should be same. That will create a better impact. The mirrored message in Google ads and Facebook ads should give a clear message about what is supposed to be done.
Include formats that can replicated in both search and social.
E.g. If you want store visits, use Google's Local inventory for search and Facebook's store visit ads for social in your media plan.
Budget allocation
First, you need to differentiate the messaging between the existing customers and the prospects. When you are planning a campaign directed towards the potential leads, exclude the customers. For this, you can use Facebook's customer audiences section and Google's Customer Match.
While naming, keep it standardised, that way, it is easy to implement across channels. Include markers like potential lead or existing customer, placement, test details, and so on. The campaign name and UTM structure in the URLs should be matching to coordinate with the analytics tool.
If you are not sure about the spends in either of the channel, run a test and the data will present the actual story in front of you.
Using search intent data
When people Google something, they tell what they are exactly looking for. At digital marketing agencies, we aim yo put this information to your best use – create the ads on Facebook by creating an audience-set based on the search query.
E.g. If people are searching hotels in Pondicherry with a sea view / closer to the most-famous tourist destination etc, include that amenity in your Facebook ad copy. Highlight the feature that people are looking for.
Cross-selling on the channels
If there was a conversion through your search ad, cross-sell to the same customer set by selling complimentary products on Facebook. This will ensure that your brand adds value to them and secure them as customers for a long period of time.
Defining the results
Use Google Analytics and keyword research to check the search gap analysis. It will help you know the number of potential visitors vs actual visitors. For social media, you can use listening tools such as Hootsuite, Tweetdeck, Social Mentions etc. When you have to invest further, first check the quality of traffic that you are getting, not just the quantity. So that you can spend more wisely. Quality of leads should be deciding factor when planning on further investments.
Continuing the action plan
Once you have finalised the content themes, create a calendar – it can be monthly or quarterly or weekly. Use social media influencers to share the content that you create. Keep in mind the points mentioned above to get the best leverage.
Let the synergy of search & social work its magic – When it comes to online marketing, combine the channels, the strategies, to make sure that you reach your audience in a best way possible. The marketing efforts should not just combine, but should also multiply the results.
Have comments / questions on this story? Write to us at info@theimpulsedigital.com or connect to us on Twitter, Facebook, or Instagram.