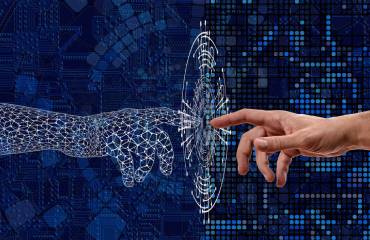 Covid 19 crisis has reshaped and redefined our priorities on a broader scale and we are likely to adapt to the next new normal for the years to come changing the way we think, react and evolve. The unprecedented rise in digital engagement by consumers is compelling organizations across the world to rethink and re-strategize their marketing methods. As the businesses begin to reopen, the organizations are scrutinizing online data and assessing consumer behavior to intricately plan their business moves.
Reinforcing the Existing Digital System to Yield Different Results
Albert Einstein said, "Insanity is doing the same thing over and again and expecting different results". Well, during the pandemic period people used the existing digital systems and the results were different this time.
We used the existing e-commerce system for daily convenience and telemedicine for emergency situations and this trend continued even after the pandemic crisis was over because of the convenience and affordability e-commerce system offered to its consumers.
The e-commerce companies achieved an unprecedented increase in their revenues during the pandemic period because of the changed consumer behavior and exponentially increased digital engagement of the people.
The Unexpected Digital Transformation at Unexpected Time
The organizations and research communities wanted to bring digital transformation in an organized manner by spreading awareness about the digital platforms but the Covid 19 crisis has compelled people to embrace digital platforms in a very short period of time. The online presence of consumers has increased significantly in the past two years because of the pandemic and the digital transformation of the communities has accelerated unexpectedly. This digital transformation is happening at a staggering pace and nobody anticipated it.
The consumers who were refraining themselves from accessing the e-commerce services and digital payment methods were compelled to avail of these services during the pandemic period and now most of them continue to avail of these services because of convenience, safety in transactions, and improved after-sales service offered by the digital platforms. The digital presence of both consumers and service providers is increasing at an astonishing rate after the pandemic crisis.
Constant Engagement with the Consumers to Maintain Consumer Loyalty and Get New Ones from Overseas
Getting insights into consumer sentiment is an integral part of a sales strategy and digital marketing offers a platform for the organizations to re-evaluate their work culture, and dynamics and optimize their systems to achieve operational excellence so that they can serve their best to their consumers. It has been proven that constant digital engagement with consumers has helped organizations to counter the trust deficit issue efficiently to win new customers from across the world and retain the old ones.
The digital platform enables the consumers to interact with the service providers regarding valuable suggestions and requirements and based on the inputs, the organizations can formulate their marketing and sales strategy based on the inputs received through digital platforms.
Creating Trust in Consumers' Minds by Maintaining Integrity in Business Models with the Help of Digital Marketing
A person sitting in Sri Lanka could order French wine without worrying about the quality of the product from overseas because he has used the digital platform during the pandemic crisis out of compulsion and now, he is using it to explore and experience a variety of delicacies and cuisines.
The heavy digital presence of both the consumer and the service providers and the efforts of the service providers to constantly engage with the consumers through digital platforms has helped them to retain loyal customers and get new ones from overseas.
"A fisherman always sees another fisherman from afar"
No matter where our business is located, we know for sure that there could be consumers out there located in another part of the world interested in accessing our products or services. How do we reach out to them? Digital platforms allow us to reach out to people from across the world to understand their requirements, inclinations, and attitudes and formulate a sales strategy.
A Russian proverb says"A fisherman always sees another fisherman from afar". If a consumer wants to access your services or products far from where you are located, he will still find you if you have a digital presence.
Adapt the Change to Embrace the Opportunity of Enticing the Consumers with Digital Presence
People are spending more time online for their daily convenience and this shift in consumer behavior has enabled the consumer to explore a variety of services and products that are difficult to avail in local markets. The interesting fact is that people are enjoying this phenomenon and are interested in trying new products that are available through digital platforms.
An interesting thing to note is that few business owners across Europe built functioning e-commerce platforms in just three-four months' time to reach out to customers digitally. What prompted them to take such a big decision? Building e-commerce infrastructure facilities is a significant move for businesses but businesses are willingly allocating their resources to building e-commerce platforms to cash on emerging opportunities.
Being Found Online is Crucial!
Everyone has an online presence. Individuals, organizations, NGOs, Political parties, and celebrities. Everyone is competing to be seen first, to be found first. With the increased internet traffic, the traffic to compete with each other to be found online is also increasing exponentially.
To address this concern, digital marketing uses a variety of methods to route and increase traffic to websites to engage with new customers and to improve after-sales services of the existing ones.
Paid media is increasingly becoming popular among entrepreneurs as it is result-oriented and efficient digital strategy to promote the product and service content through sponsored social media posts, video ads, pop-ups, paid search, display ads, and other forms of digital promotions.
Amplify the Digital Presence to Increase Your Profitability
The digital transformation has given an opportunity to business owners to offer their products and services to consumers worldwide. Consumer behavior has changed significantly empowering them to access services and products from other parts of the world. The world has become a small place and we have every right to enjoy the lively pleasures that could be made available safely and ecologically and digital platforms can assist us in every way possible to enrich our customer experience.